.: Tire Repair/Compressor Kit
Pretty straight forward addition. Cars that have the tire delete would come with this kit but that doesn't mean if we have a spare we can't have it. There is a spot in the trunk for it so all you need to do is find the parts. Ebay is your cheapest source for these units.
Now this is a no modification install so I would rate it 0 out of 10 for difficulty.
Tire Repair/Compressor Kit
Here's the part number your looking for:
Compressor: 8P0 012 615 A
Tire sealant is 8E0 012 619
There is a specific part number for the compressor but from what I can tell just about any Audi/VW/Skoda pump will fit. The difference is some of them don't have the gauge in the unit it's inline on the hose. I noticed that most of the units share the last 6 digits and the first three match the model of vehicle.
The tools you will need:
None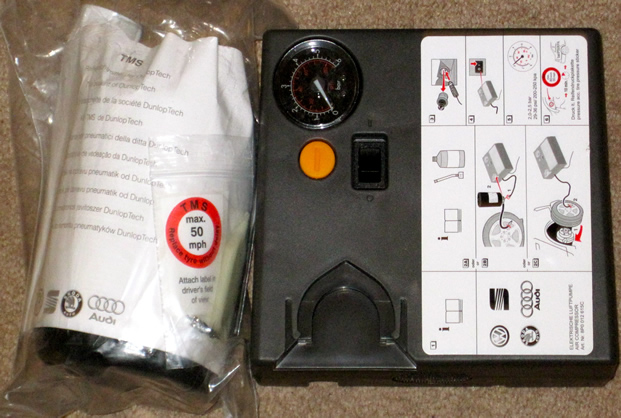 After looking at the picture looks like it may fit better sideways but it is nice and snug.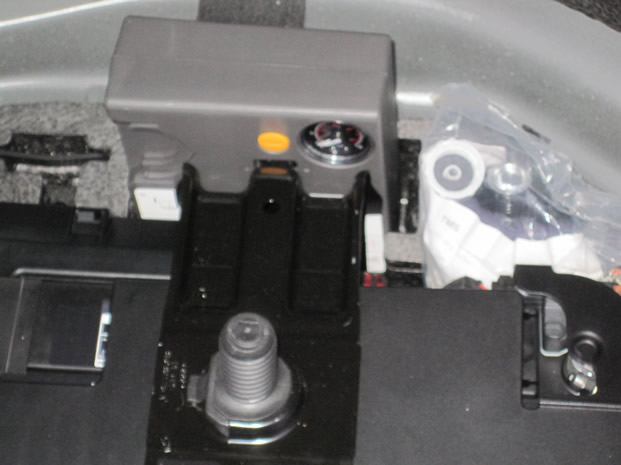 I guess we all know why they leave that hole in the back of the cover now. Audi was thinking ahead on this one allowing you to grab the air pump without taking everything out.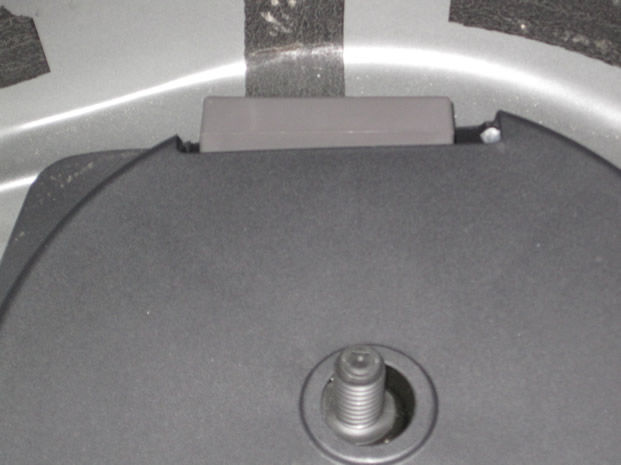 I should have taken some pictures with the cords and stuff out. What you can't see is about a 15' cord that goes to your cigarette lighter and a hose with a threaded coupling that attaches to the valve on your tire. The bottle you see is a tire repair fluid. You actually slide it into the slot you see on the top of the compressor. The hose from the compressor goes into the bottle and then there is a little hose that goes from the bottle to the tire. It pumps a special sealant into the tire and seals any holes.
Please note: AudiEnthusiast.com is in no way associated to Audi or VW in any way shape or form. All brand names and manufacturers listed here are for informational purposes only and are in no way endorsed by AudiEnthusiasts.com unless stated other wise.
WARNING!! All modifications and changes are done at your own risk. This site in no way approves the modifications performed here for your vehicle. Please check with your dealer before performing any changes as they may void portions of your factory warranty.