.: PR Codes
As you progress not only through this site but a lot of the forums you'll hear about these PR Codes.
PR Codes are the Order Codes that Audi uses for building your car and what your dealer uses to order them. They are generally 3 digit codes that are used for each option or group of options in your car. The exception of the 3 digits are colours which are 4.
So where do you find these codes? There are 2 locations where you can find these. The first is the easiest which is in the front of your maintenance manual which came with your car. The second is near the spare tire in the trunk. You may want to make yourself a little document with your codes decoded at some point for reference.
Here is what your PR code sticker should look like: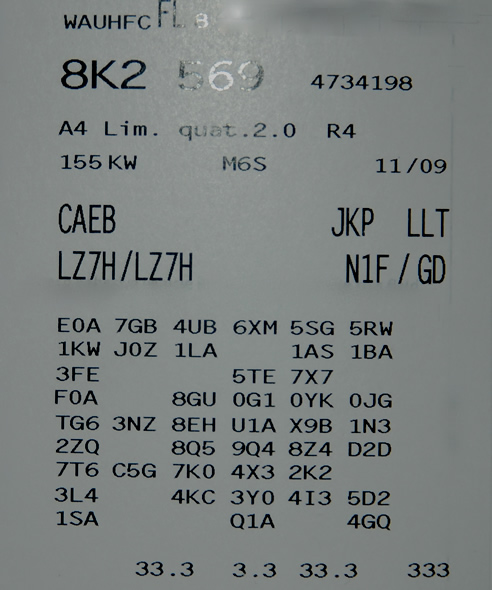 Here are all the codes decoded:
0G1 = Gearshift lever
0JG = Weight category front axle weight range 7
0YK = Weight range 10 installation control only, no requirement forecast

1AS = Electronic stabilization program (ESP)
1BA = Standard suspension/shock absorption
1KW = Disc brakes, rear
1LA = Disc brakes, front
1N3 = Speed-related variable steering assist (Servotronic)
1SA = Without additional engine guard

2K2 = Reinforced bumpers
2ZQ = Leather trimmed multi-function steering wheel for air bag system

3FE = Electric slide/tilt sunroof with sun screen/sunblind
3L4 = Electric seat adjustment for both front seats, drivers seat with memory system
3NZ = Rear seat bench unsplit, backrest split folding
3Y0 = Without roll-up sun screen

4GQ = Windshield in heat-insulating glass
4I3 = Central locking system "Keyless Entry" without deadlock
4KC = Side and rear windows in heat-insulating glass
4UB = Air bag for NAR
4X3 = Side air bag front with curtain air bag

5D2 = Carrier frequency 315 MHz
5RW = Right exterior mirror: convex (US) large viewing field
5SG = Left exterior mirror: flat
5TE = Decorative aluminium inserts

6XM =Exterior mirrors: with memory function, automatically dimming, electrically adjustable/heated

7GB = Emission standard ULEV 2
7K0 = Without tire pressure warning light
7T6 = Navigation system (MID)
7X7 = Park distance control rear with rear view camera

8EH = Bi-functional headlight with gas discharge lamp, for driving on the right(US design)
8GU = Alternator 140 A
8Q5 = Headlight-range adjustment, automatic/ dynamic with dynamic bending light (AFS 1)
8Z4 = Moderate hot country

9Q4 = Multi-function display/on-board computer with check control

C5G = Alloy wheels 8J x 18
D2D = 4-cyl. gasoline engine 2.0 l/155 kW 16V turbo FSI, homogeneous Base engine is TM2/TV2/TG6/TJ6/TD6
E0A = No special edition
F0A = No special purpose vehicle, standard equipment
J0Z = Battery 520 A (110 Ah)
Q1A = Standard front seats
TG6 = 4-cylinder gasoline engine 2.0 l unit 06H.G
U1A = Instrument insert with km/h speedometer,clock, tachometer and trip odometer
X9B = National sales program Canada


OK so now you want to know what all of yours mean. Well there are thousands of them and they don't all apply, so rather than me making some huge list I have created a decoder for your use right on Audienthusiasts.com Click Here to check it out!


Hope this helps dispel a mystery.
Please note: AudiEnthusiast.com is in no way associated to Audi or VW in any way shape or form. All brand names and manufacturers listed here are for informational purposes only and are in no way endorsed by AudiEnthusiasts.com unless stated other wise.
WARNING!! All modifications and changes are done at your own risk. This site in no way approves the modifications performed here for your vehicle. Please check with your dealer before performing any changes as they may void portions of your factory warranty.