.:Manual Wallet (Touch of Class)
If I said it once I've said it a million times, "It's all in the details!".
This doesn't change for sprucing up the glove compartment. There are very few things you can do cheap for your car but you can add this to the list.
One lonely night surfing everything Audi I went to the Audi Documentation web site. I noticed that you could order a replacement wallet for around $15 US. So being that my mind never stops thinking about what the other Audi's have we don't went searching. I thought I'd check out the A8 and see what options they had. I had a sneaking suspicion that the flag ship Audi probably had something a little nicer than our nylon manual holder.
Well after checking out the different years I came to the 2011 A8. I found they had a leather wallet available. Although there was no way to see what it looked like I figured what the heck. Lets order it up. I should note that they list a nylon wallet for the A8 as well and it matched the A4's part number so I figured at worse it would be the same size. Of course the fear that it would come with an A8 emblem worried me a little.
Now living at the top of the world (literally) the cost of shipping was almost double the cost of the wallet but still a deal for anything leather from Audi. I was pleasantly surprised when it arrived. Beautiful stitching and nice supple feel. Well worth the money for that little detail that completes an already beautiful car.

For US and Canadian readers you can find the wallet here:
https://www.audi.techliterature.com/consumer/ Product number: 1015674H088
For the rest of the world. I'm sorry but I don't know where you can get documentation and wallets. In the North American Owners manual there is a web site listed in the back of the back of the manual (give it was no good) but it may be a good source to check. I have no doubt the dealer can order these though.
Here is a picture of the wallet: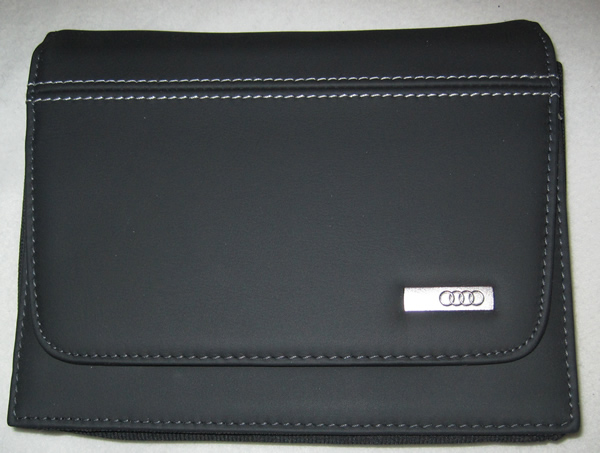 So the next time your wondering what to get the Audi owner on the family that has everything or you wondering what you can ask the dealer of your new car to toss in, think leather.
David Cochlin
Audienthusiasts.com
Please note: AudiEnthusiast.com is in no way associated to Audi or VW in any way shape or form. All brand names and manufacturers listed here are for informational purposes only and are in no way endorsed by AudiEnthusiasts.com unless stated other wise.
WARNING!! All modifications and changes are done at your own risk. This site in no way approves the modifications performed here for your vehicle. Please check with your dealer before performing any changes as they may void portions of your factory warranty.